XT H 225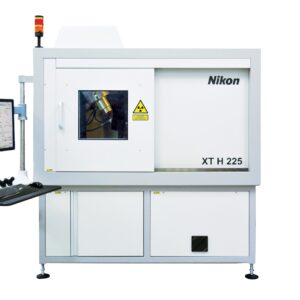 Features
Choice of different proprietary microfocus X-ray sources

180 kV Transmission target

225 kV Reflection target

Optional rotating target (ST only)

Choice of Varex flat panels

Real-time X-ray visualization, fast CT reconstruction

CT measuring volume up to X:450 mm, Y:350 mm, Z:750 mm (ST version)

5-axis fully programmable part manipulator

Customizable macros automate measurement workflow

Small footprint
XT H 225 ST 2X (stretched)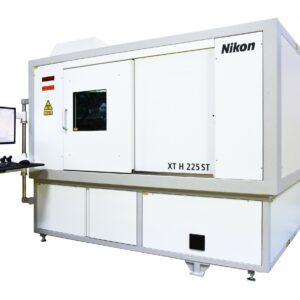 Benefits
Flexibility combined in a single system: X-ray for
quick visual inspection, CT for in-depth analysis
Fast data capture and high-quality images
Fast operation with interactive joystick navigation
High-resolution digital imaging and processing
Safe system requiring no special precautions or badges
Tight integration with industry standard postprocessing applications
XT H 320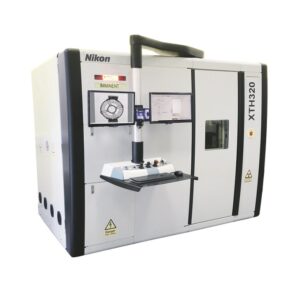 Features
Proprietary 320 kV microfocus X-ray source
Run highly accurate inspection on dense industrial objects
Easy system operation and low cost-of-ownership
Stunning images providing great insight
High performance image acquisition and volume processing
Straightforward inspection automation
Safety first
XT H 450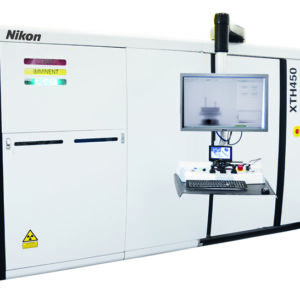 Features
Unique open-tube 450 kV microfocus source

High-brilliance source available (option)

Different imaging options

Varex flat panel detector (XT H 450 3D)

Curved Linear array Detector (XT 450 2D)

Combination of plat panel and CLDA detector

Measuring volume up to 600 mm diameter and 600 mm height

5-axis fully programmable turntable manipulator with precision ball screws and linear slides

Dedicated application for automatic pass/fail inspection of turbine blades
In-house design & build sources

180 kV transmission target
Applicable for samples smaller than 10 mm, such as small rock cores or bone samples, the transmission target operates up to 180 kV to achieving a minimum spot size of 1 µm leading to high resolution CT.
225 kV reflection target
With up to 225 kV and a minimum spot size of 3 µm, the 225 kV microfocus source is the core of Nikon's XT H 225 range, devising flexibility to cope with a range of sample sizes and densities.
225 kV rotating target option

Nikon Metrology is the only company to produce an industrial 225 kV rotating target option. Using a rotating target, the electron beam falls on a moving instead of a fixed surface, which yields much more effective cooling. This offers the opportunity to measure objects faster, or denser objects with higher accuracy than using a conventional static 225 kV.
320 kV source

The 320 kV source is a unique microfocus source for samples too large or dense for 225 kV whilst still maintaining a small spot size. Ideal for rock cores and small castings, the source is an option in the XT H 320 cabinet.
450 kV static and high brilliance source

The unique 450 kV microfocus source gives industry leading performance for small high density or small to medium castings with unrivalled power and resolution. Nikon's 450 kV high-brilliance source
delivers 450 W continuous power, without any measurement time restriction, whilst maintaining a smaller spot size for faster CT scanning, collecting data up to 5x faster or with higher accuracy in a similar scan duration
of the default 450 kV.
Multi-metal target

Often, using a lower energy X-ray emission is beneficial in material analysis and that can be achieved with the multi-metal target. Beside the standard tungsten (W) target, the operator can easily select from three other target materials: silver (Ag), molybdenum (Mo) and copper (Cu).